Java Bites Giveaway Winner
Java Bites winner is Michelle A., Coupon L., Erika P., Irene R., Edward M. Congratulations to all 5 of you!! You have 48 hours to respond to the email I just sent you in order to claim your prize. Otherwise a new winner will be chosen. Thanks for all of the entries!
Heidi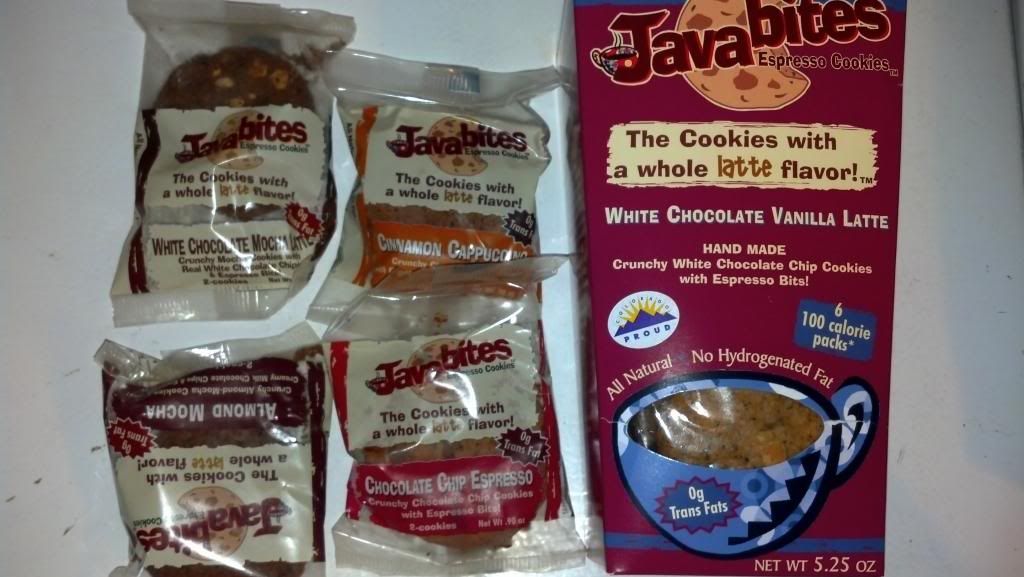 The day I got the Java Bites cookies I waited for my husband to get home before tearing into the first package. (Which took some will power let me tell you.)  But I did the normal activities before he got here so I would be ready the second he walked into the door.  I looked at the calories first 107 calories for 2 cookies, not to bad, but did some hot laps around the house so I could eat at least one.  Then took my picture so you all could see the yummy goodness of the packages and went to work on other items while I waited patiently (ok, or not really but it sounds better right?
The first one we tried was the Chocolate Chip Espresso JavaBites and oh my goodness!! I'm not a fan of hard cookies, but these were heavenly!! I had my morning coffee with me and didn't even need it. The JavaBites melted in your mouth while hints of espresso and chocolate chips worked together to make the best cookie ever!! I had to stop at 1/2 cookies, hubby didn't care for them but I was happy to eat the other half of his.  Back to more hot laps, but the burst of energy I got after the cookie was amazing!!! It didn't even wear off for a while which I loved!!
JavaBites White Chocolate Mocha Latte was just as delicious!! It was a crunchy cookie with white chocolate chips and bits of espresso mixed right in.  It was a great afternoon snack to have on hand for a quick pick me up! It is simply delicious and just as good as the first!! Mocha Almond had an overpowering almond taste with a hint of mocha.  My husband thought that it tasted fruity so this cookie wasn't for us.
White Chocolate Vanilla Latte only have 100 calorie packs so it is a little bit healthier for you. Had strong coffee Latte Flavor with a hint of vanilla.  This made it a great cookie for a coffee lover that wants a sweet treat to go with their coffee or even by themselves!!  I loved the smell of these delicious cookies!! It made me feel like I was in a coffee house with fresh brewed coffee all around. White Chocolate Vanilla Latte was my husband's favorite cookie.
Cinnamon Cappuccino is a great cookie Fall and put me in the mind of having a snickerdoodle cookie. I loved that this cookie was a softer cookie and the cinnamon flavor really stuck with you.  It was perfect to go with my evening coffee!!
Now 5 lucky SMSL readers will get the chance to win a package of JavaBites cookies of their choice!! Enter to win below!!
a Rafflecopter giveaway

The products in this post were given to me in exchange for my review/opinion by JavaBites. Even though thees products were provided to me at no cost, I only personally recommend products that I think will be good for myself and readers. Thanks to JavaBites for allowing me to review this great product.